---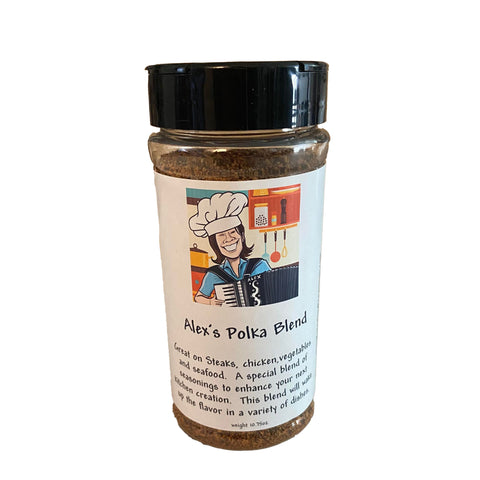 Alex's Polka Blend
AXMX
Regular price $15.00
Get your Polka On!
Alex's Polka Blend is great on steaks, chicken, veggies and seafood, but it gets even better. Mix it with your homemade mac -n- cheese, excellent. Use it to season Jojos (potato wedges)...fantastic. We enjoy this blend so much, we just had to put it the store!
Making something good? We'd love to see your culinary creations using Alex's Polka Blend. Tag us with us on Instagram and Facebook.

Nutrition Facts
Serving Size: 1/4 (0.09g)
Servings Per Container: 25
Amount Per Serving:
Calories: 0
Total Fat: 0g
Saturated Fat: 0g
Trans Fat: 0g
Cholesterol: 0mg
Sodium: 10mg
Total Carbohydrates: 0g
Dietary Fiber: 0g
Protein: 0g
Ingredients 
Salt, black pepper, chili powder, msg,granulated garlic, worchestershire powder, lemon zest.